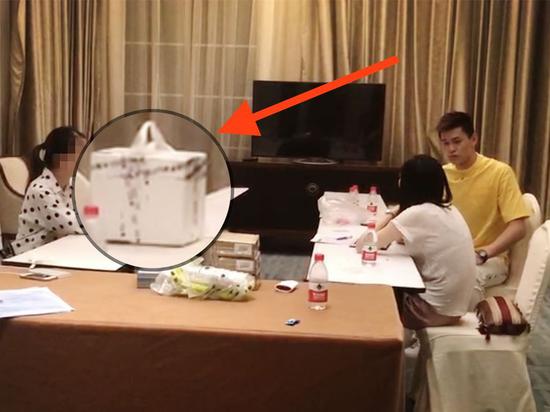 The testers bring a foam box on Sept. 4, 2018. (Photo/Xinhua)
15 months after a nightmarish evening that led to a series of court cases against him, China's Olympic swimming champion Sun Yang still has difficulty processing that day's events.
"Everything that happened on the night of September 4, 2018 looked bizarre," recalled Sun after his morning training session in Beijing on Wednesday. "The doping officials didn't have sufficient credentials, one official had never received any training in doping control, and they agreed not to take away my samples because they lacked the proper credentials."
"The funny thing is that they brought with them a foam box like one for storing seafood, instead of a standard collection box," added the three-time Olympic champion.
Sun, who was tested by Chinese anti-doping officials on Tuesday night, his 25th doping check of the year, said the Chinese officials "performed their duty exactly as required by the WADA code and used standard testing equipment."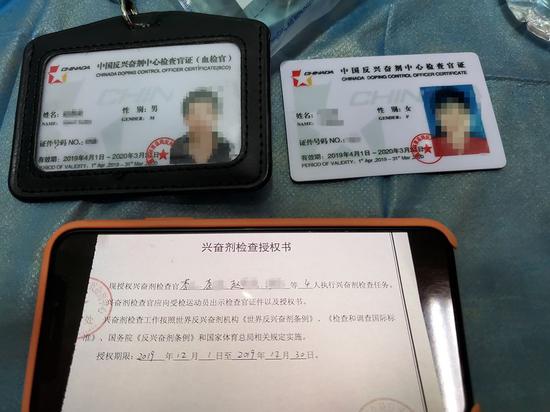 The authorization and credentials shown to Sun Yang by the four Chinese anti-doping officials on Dec. 10, 2019. (Photo/Xinhua)
The 28-year-old Chinese has been tested nearly 200 times since 2012, including 28 in 2017 and 31 in 2018.
The Court of Arbitration for Sport (CAS) said on Tuesday that its verdict over the case brought by the World Anti-Doping Agency (WADA) against Sun Yang is not expected before January 2020. This is in part down to the time taken to prepare a written transcript of a lengthy public hearing on November 15, 2019, which was marred by poor interpretation.
Sun refused to complete a doping test conducted by the international testing company IDTM on September 4, 2018 after discovering that the doping control officer (DCO) and her assistants lacked sufficient authorization and credentials. The three testers signed an agreement with Sun on the morning of September 5 stating that the test was "incomplete" and that they would not take away the swimmer's samples.
Sun's case was later heard by swimming's world governing body FINA, who decided on January 2019 that the swimmer was not guilty of anti-doping rule violations. WADA disagreed and appealed the decision, and asked the court to ban Sun for between two and eight years.
At Sun's request, last month's hearing in Montreux, Switzerland, which dragged on for nearly 11 hours and was attended by around 200 people, was only the second public hearing in the history of CAS.
Sun said that he wanted the hearing to be made public to let the world know what happened on September 4, 2018, and to prove his innocence, and also called on international sporting organizations to protect the basic rights of athletes.
The November 15 courtroom debate was marred by poor interpretation of the testimony of Sun Yang and his witnesses. Lawyers of both parties had to constantly repeat their questions and even interrupt the witnesses' testimonies as a result of incomplete and inaccurate interpretation between Chinese and English.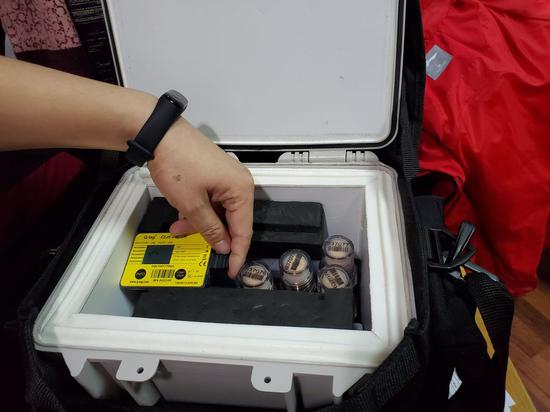 The collection box used by the Chinese testers on Dec. 10, 2019. (Photo/Xinhua)
In an earlier interview with Xinhua, Sun Yang said he couldn't trust testers without sufficient documentation proving who they were.
"I refused to take a urine test in front of a man who wasn't a real tester," Sun recalled. "When I take a urine test, I have to roll up my sleeves up to elbows and have my pants down to my knees. I can show my body to doctors or official testers. How can I urinate in front of a total stranger who isn't a tester or doctor?"
A urine test assistant who asked not to be named told Xinhua that he was a construction worker by profession, had never been trained in doping control, and was only at Sun Yang's home on the night in question at the request of the DCO, who was a high school classmate of his.